Gain a competitive
edge through consumer
credit market data
Inform strategic decisions and maintain market
dominance thanks to our database: reliable,
structured and up-to-date.
Our professional team ensures you stay competitive
in the ever-changing consumer credit market
by keeping an eye on your competitors
Credits weekly data of the
leading consumer credtis companies*
Germany
Italy




Portugal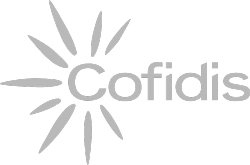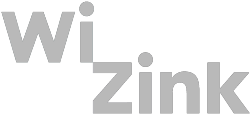 Spain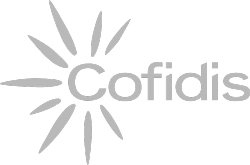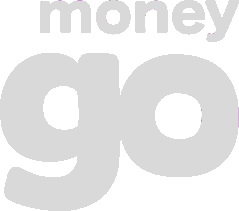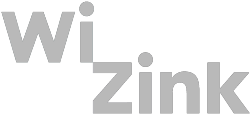 We provide data for the most common scenarios in the current market. These are all the
combinations of different amounts, maturities and project types.
Raising up to 312 data points per company per week.
Benefits
Set competitive interest rates
Use our data to set interest rates that are competitive in your market and attractive to borrowers. Combine your data points with ours to understand the factors that drive borrower behavior and adjust your rates accordingly.
Identify lending opportunities
Gain access to valuable insights into market trends, allowing you to identify lending opportunities that you may have otherwise missed. This can help you grow your loan portfolio and increase revenues.
Streamline operations
Our database is easy to use and integrates seamlessly with your existing systems and processes. This can help you streamline your operations and reduce administrative overhead, allowing you to focus on serving your customers.
How does it
work?
Access to all our data is done through a private API.
We will provide you a unique API key that your company can use.
We provide also a detailed API documentation so IT teams know their way around.
Check our API documentation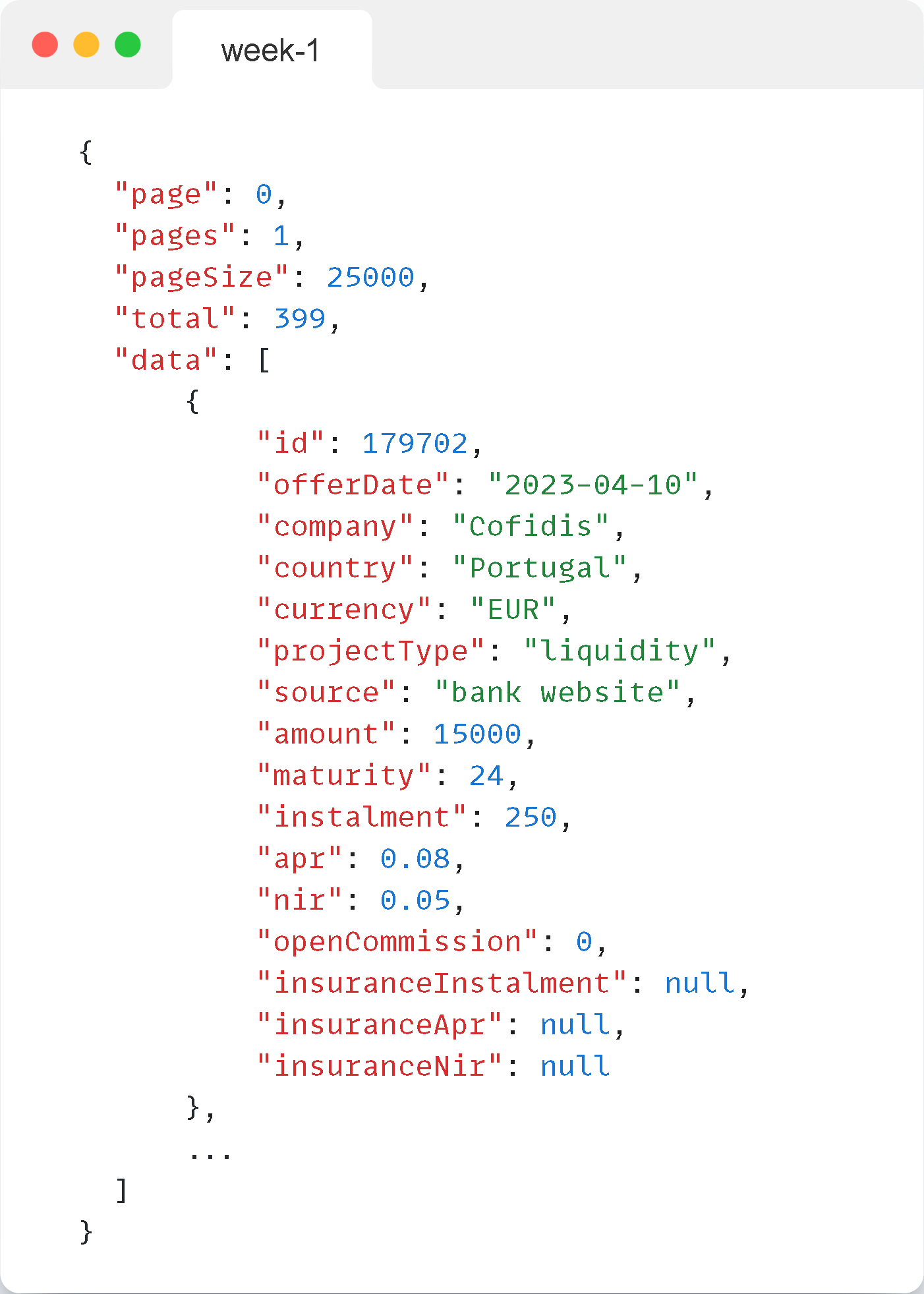 * API sample
Pricing
We provide a flexible pricing structure tailored to your specific data usage needs, where you will pay for the data you receive.
Get in touch with us today to explore our range of pricing options and discover the ideal plan that aligns with your needs.
FAQs
How will you send me the data?
We offer an API that allows for seamless incorporation of our data into existing systems. The API documentation offers clear instructions and examples to facilitate a smooth integration process for IT teams.
How frequently is the data updated?
On a weekly basis, we conduct comprehensive web scraping of prominent market players websites as well as comparator websites. We make sure our database incorporates the rates of the main players in the market so you have the most data available possible.
Can you customize the database to suit specific business needs?
Our database is designed to cater to a wide range of users and, while customization is not something we actively seek, we value our clients's feedback and are committed to delivering a solution that aligns with their requirements.
If you feel you could get more value with a tailored solution, our team of experts will work closely with you to understand your specific requirements and evaluate the feasibility of customization.
What level of data accuracy and reliability can I expect?
To ensure that our clients can rely on the data we provide, we have put in place a process consisting of several checks performed before the freshly scraped data is loaded to our database. These checks include:
-

Duplicates removal:

this helps ensure each data point is represented only once, minimizing redundancy.
-

Value validation:

we make sure each price point falls within a reasonable range from its theoretical one based on its context variables. This helps identify any inconsistencies or discrepancies and act accordingly.
-

Standardization of company names:

this helps avoid confusion and facilitates you analysis and comparisons.
-

Comparative analysis:

we conduct regular comparative analysis between fresh data and the one from the previous batch. This helps us identify significant deviations and maintain data consistency over time.
-

Manual checks:

as part of our quality assurance process, we perform manual checks on a subset of data points. We verify the accuracy and reliability of these data points via screenshots and save them as evidence of this verification.
To demonstrate our commitment to data accuracy, we adhere to a Service-Level Agreement (SLA) that sets clear benchmarks and standards for data accuracy and reliability, aiming for 95% of data accuracy. This means that you can expect the vast majority of the data in our database to be accurate and dependable.
This solution is something my IT team could develop. Why partner with you?
While you could consider developing an in-house solution, there are several compelling reasons to consider working with us:
-

Time and Cost Efficiency:

developing a robust database solution from scratch requires significant time, effort and expertise. By working with us, you can save resources and avoid the lengthy development process.
-

Expertise and Specialization:

we specialize in providing comprehensive and up-to-date information on the credit market. By choosing our product, you benefit from our expertise and leverage our dedicated resources without having to invest in building your own infrastructure.
-

Maintenance and Updates:

maintaining and updating a database can be an ongoing challenge. We make sure our data keeps its integrity and is regularly updated while you can focus on your core business activity.
-

Scalability and Flexibility:

as your company grows, your data needs may evolve. Our product offers scalability and flexibility to accommodate your expanding data requirements.
-

Competitive Advantage:

leverage our specialized database to gain a competitive edge in the credit market. Access to accurate and timely information can help you make better-informed decisions, set competitive pricing strategies, and identify new opportunities in the market.
Ultimately, purchasing our product provides you with a cost-effective, reliable, and specialized solution, freeing up your IT department's time and resources.
About Abasil
At Abasil, we are committed to delivering exceptional value to our clients, leveraging our market know-how, operations knowledge, tech proficiency, and successful track record to drive their success.
We are proud to have established partnerships and worked with industry-leading companies.
Despite being a young company, we are positive EBITDA since year 1, and that's something we also are proud of.